North America's Winter is Costa Rica's Summer. How is that you ask since it is North of the equator? Because it's the "dry season". In December the rain has stopped and will not start again until May. It is HOT since there are no clouds.  School is out for three months and the coffee beans are ready for picking and drying. The average temperature at the beach it is 93 degrees F (32c) days and at night 73 F (22c) and in the mountains it is 86 degrees F (30c) days and nights are 68 F (20C)
NOTE: Do not argue with a Tico that it can't be summer because they are North of the equator. They will never give in.
Costa Rica has 780 miles of un-crowded, beautiful Pacific Ocean Beaches with gorgeous sunsets. Many are secluded and are accessible only by boat and Bill Beard's has the boats. There are many locations with surf boards, kayaks and stand up paddle boards for rent.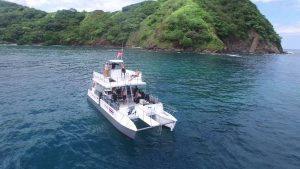 Scuba Diving in Costa Rica is world class due to the large amounts of marine life around the volcanic rock formations and pinnacles. The very best mainland diving in Costa Rica is the gulf of Papagayo in the Northwest Pacific and Costa Rica's Isla del Caño in the Southwest Pacific. The Gulf Of Papagayo includes the Catalina & Bat Islands. Catalina Islands is famous for giant Pacific Manta Rica and Bat Islands is famous for large bull sharks. Of course both Gulf Of Papagayo and Costa Rica's Isla del Caño and Drake Bay have tremendous amounts of schooling fish numbering in the thousands and an occasional whale shark, humpback whale, orca, pilot whales and more turtles, mobula rays, cow nose rays and spotted eagle rays than you can imagine.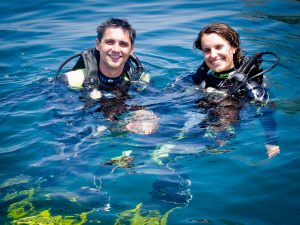 Scuba diving in the Pacific Ocean: Add diving to your vacation package, There are tremendous amounts of marine life due to the volcanic rock formations and pinnacles. If you are not a certified diver and would like to get certified while on your vacation we can include that in your itinerary .
Let Bill Beard's Costa Rica set up your itinerary. We have privately escorted tours and first class accommodations throughout the country that may be added to other packages. To see all the adventure tours that Bill Beard's operates Throughout Costa Rica: CLICK HERE
Sublimely beautiful Costa Rica has something for everyone. The treats range from exciting adventure to leisurely relaxation, and everything in between that we can add to your vacation package. Furthermore, tourists can sample the laid-back national lifestyle that ticos (the name Costa Ricans call themselves) refer to as 'Pura Vida' – 'pure life': no stress, no hassle. All this, combined with unsurpassed natural beauty and a developed and accommodating tourist industry, makes Costa Rica a wonderful place to visit & vacation.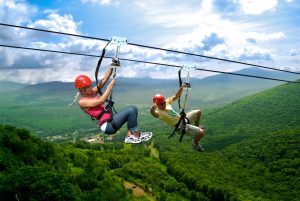 Our agents can set up the all inclusive or al a carte vacation package and itinerary you want throughout the country. See The Resorts & Areas We Represent That You May Choose: LEARN MORE

Our Reservation Office Is Located In La Fortuna, Costa Rica In The Shadow Of Arenal Volcano, behind the Catholic Church, Near The World Famous Hot Springs. Nothing to learn here – Just wade into the thermal waters under the waterfalls.

For Reservations & Information

Contact Our Office At 877 853-0538 or 954 453-5044 M – Sat., 9 – 9 ET
Sign up for our Latest Newsletter & Adventure Travel Deals
Get Connected And Stay Up To Date with Bill Beard's: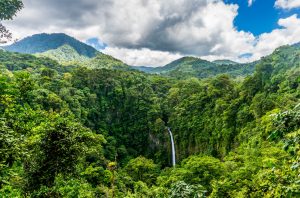 Like Us On Facebook
Follow Us On Twitter
Watch Us On YouTube
Connect On LinkedIn
Check Us Out On TripAdvisor
IMPORTANT NOTE – Please be advised that every reasonable effort has been made to keep all prices up to date and free of errors or omissions. Prices and policies from our vendors and the Costa Rican government are subject to change without notice. Invoices will be issued at the time of booking to confirm all final rates and offers.